AZ Hollink South Africa appointed sole distributor of RENK Hanover for Sub-Saharan Africa
Since April 1st 2012, AZ Hollink South Africa is the sole representative of RENK Hanover in South Africa and authorized dealer for Sub-Saharan Africa. With this designation, the world's market leader in SLIDE BEARINGS and PIN BUSH COUPLINGS reinforces its service throughout the continent. 
This intensified collaboration between the AZ Hollink Group and the German manufacturer did not come out of the blue. For years, AZ Hollink has been one of the main RENK-distributors in Europe.  As a result of its international policy, AZ Hollink has been able to expand its activities from the Netherlands into Belgium, France and Luxembourg. In 2010, AZ Hollink put up a subsidiary in South Africa, to target the local heavy and mining industry.
The collaboration for Sub-Saharan Africa did result in more growth for both parties. Dieter Spillebeen, director of the AZ Hollink Group: "We know the products of RENK thoroughly. We consider the manufacturer as a one of our closest, most loyal partners. "
For RENK Hanover, the agreement has significantly increased the turnover in the 38 African countries.
Markus Trautmann of RENK: "We can offer the close follow-up that our products require, thanks to the partnership with AZ Hollink for our African market.
Too often we were facing problems with fake bearings. For a precision part such as a RENK-slide bearing, it is strongly advised to only use original parts. We like to point out: similar is not the same! Tolerances are very precise. If for any reason a client decides to overhaul a bearing, it is recommended that is done by the Hanover factory. If any bearing part is up for revision, AZ Hollink can advise as our official agent. Also, a bearing shall only be overhauled once. After that, tolerances are unlikely be maintained. In 95% of all cases, only a new bearing or new parts will lead to a solution. This will have an effect on the lifetime, efficiency and most importantly, reliability of the machine and thus the production. In the end a slide bearing is one of the most crucial parts in the drivetrain."
BEWARE OF FAKE..!
_____________________________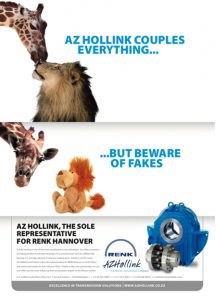 _______________________________
https://www.renk-ag.com/en/company/locations/hanover/